YouLong Online Shopping System
Your dream Teddy Bear is only One-Click-Away!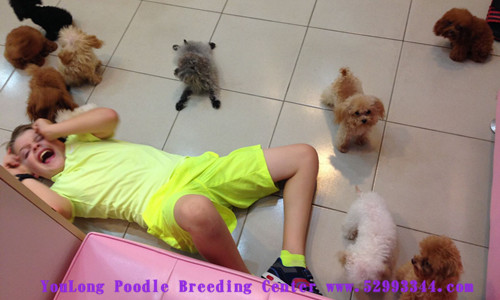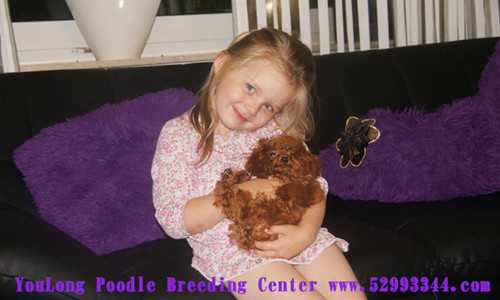 1. Scroll and select your region of residence, and click on


Teddy Bear price varis with selected country/region of residence due to
different shipping fees and pet importation requirements for individual countries.
Note that YouLong Breeding Center has every right to decide whether to
ACCEPT or DECLINE the purchase from our online buyers.
Yes, full refunds will be given if your online puchase has been actively declined
by YouLong Breeding Center for any particular reasons.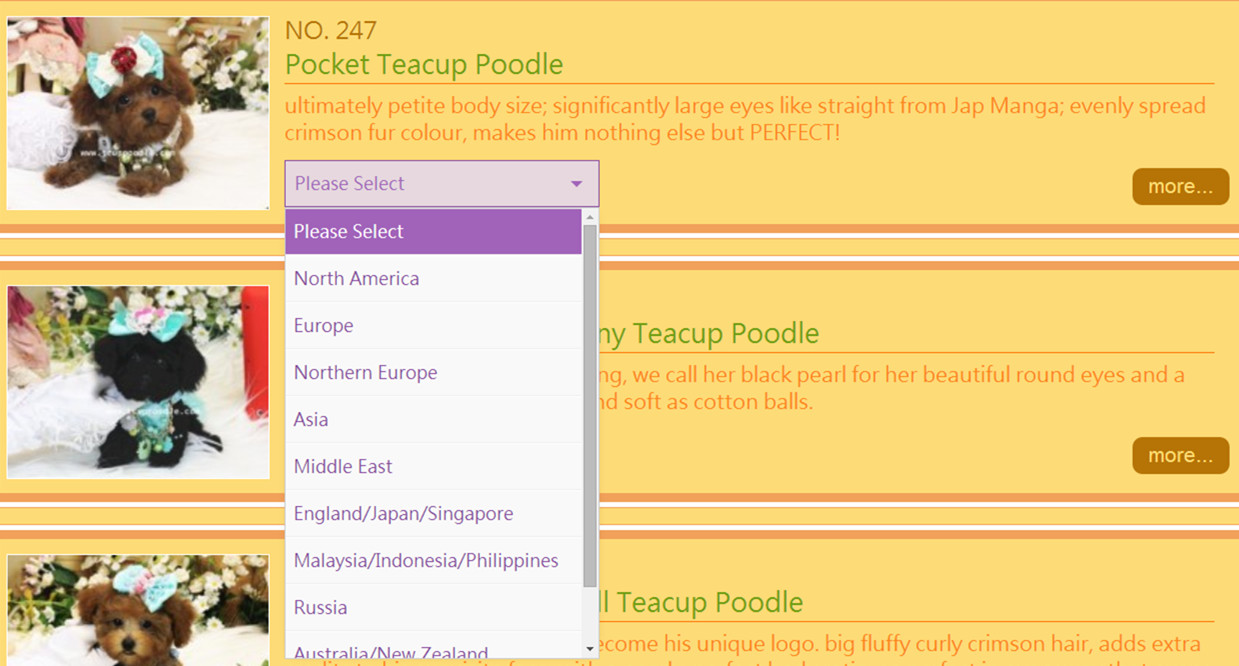 Alternatively, if your country/region is NOT listed on our website or you have other
questions regarding the payments, shipping methods and so on, simply click on
the 24HR Online Consultation button on the RIGHT and write to us about those inquiries.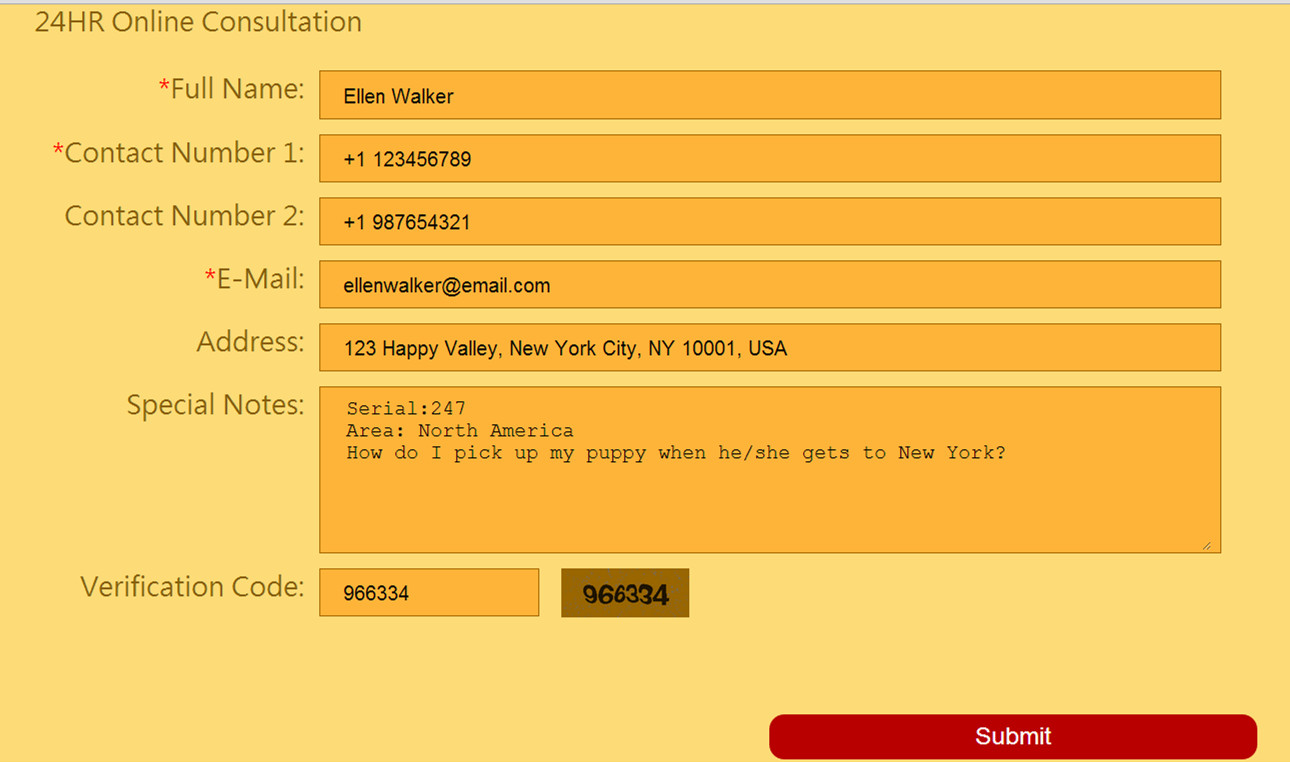 2. Read the YouLong Breeding Center purchase terms and conditions carefully;
once you have made your final decision on the poodle puppy you wish to puchase,
simply click on

on the right of his/her personal profile.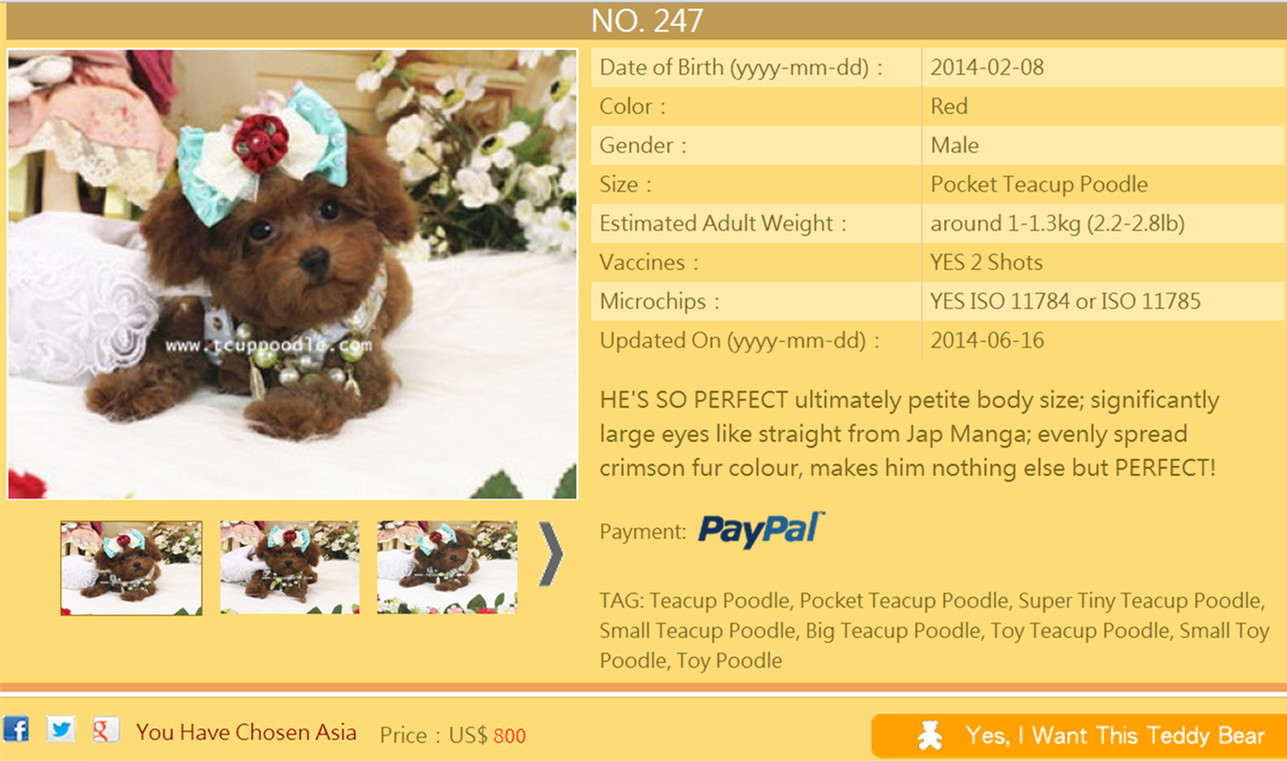 3. Review the details of your chosen poodle puppy once again, make sure you
have selected the right puppy and the correct country of region you resident in,
and you can (1) click on

to proceed to the payment page;
otherwise, (2) click on
to view and puchase more puppies.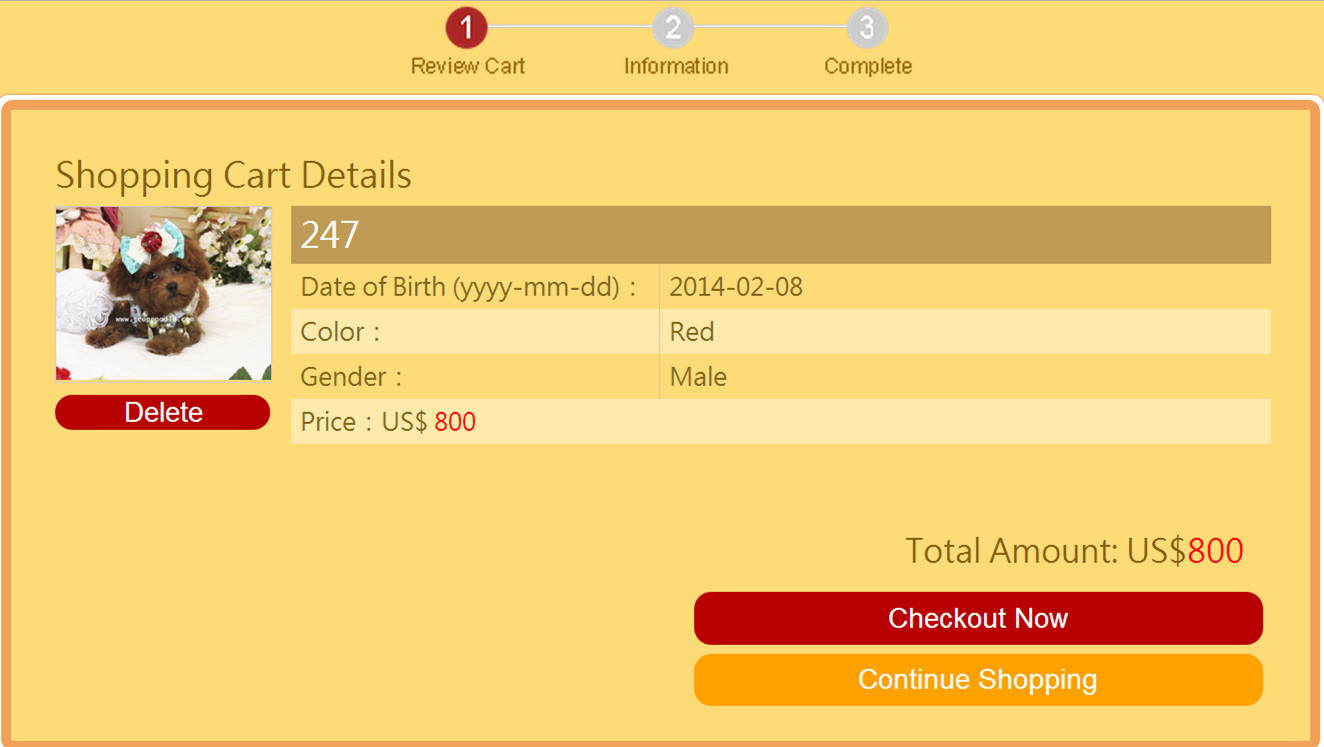 4. When you have finished shopping, click on

and,
fill in your contact information as requested; note that you must only
provide TRUE identity details about yourself/the recipient.

Please do NOT provide FALSE identity information otherwise not only your puppy
will fail to be sccessfully delivered to you, YouLong Poodle Breeding Center will still
deduct all amounts required to deliver the puppy to you in terms of shipping fees,
pet health reports, labotory blood testing fees, dog crates, flight tickets etc.,
regardless failure of the delivery due to false receipent identity information given.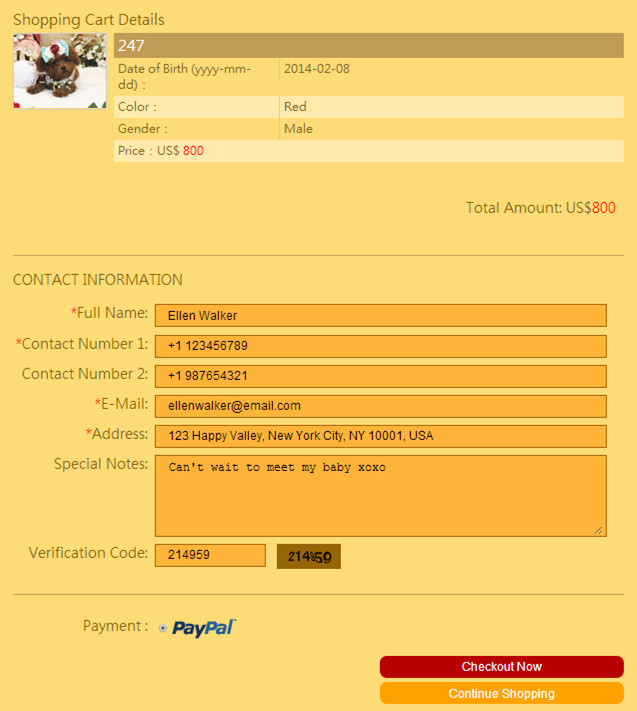 5. Next, please wait while our website direct you to the PayPal Payment Page.
this might take a while depending on the speed of your local internet provider.
Refrain from pressing the F5 Refresh Button while your data is still being processed.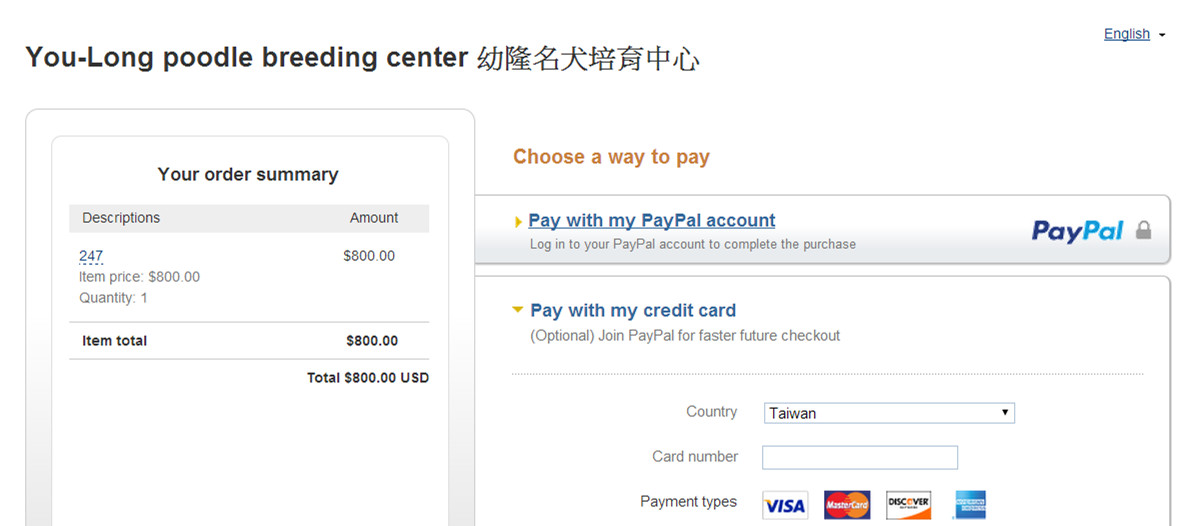 6. Once your online payment is sent via PayPal, you will see the
message below confirming that your purchase has been successful.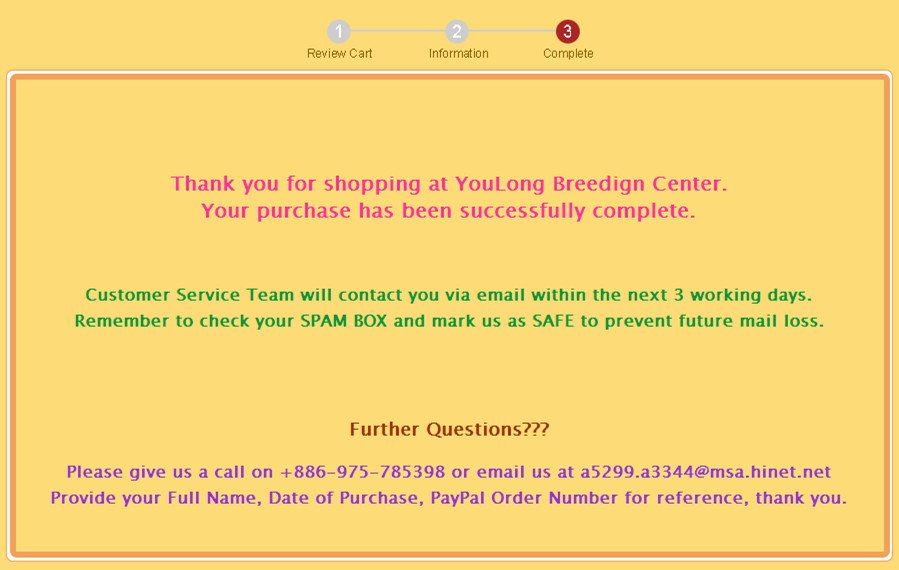 If for any reason you do NOT see the Purchase Complete message appear
on your screen yet you believe that you have successfully sent the payments
via PayPal, simply give us a call on +886-975-785398 or write us an email
using the YouLong 24HR Online Consultation Form to decribe the problem.
Please remember to include the follwing information in your emails for reference:
your Full Name, Contact Details and Date of Puchase/Payment on PayPal.


Facebook Page: TeddyMommy Google+: +5299teddy1 Twitter: @teddy5299
Plurk: teddy5299 Flickr: teddy5299 Tumblr: teddymommy Pinterest: teddy5299
Poodleholics Please Contact
Store: +886-6-2292569 Mobile: +886-975785398 Line ID : teddymommy
WeChat: Teddymummy5299 QQ: 603042543 SKYPE: teddy52999
Whatsapp : +886-975785398
Email 1: a5299.a3344@msa.hinet.net (main)
Email 2: teddy5299@gmail.com Email 3: teddy5299@hotmail.com